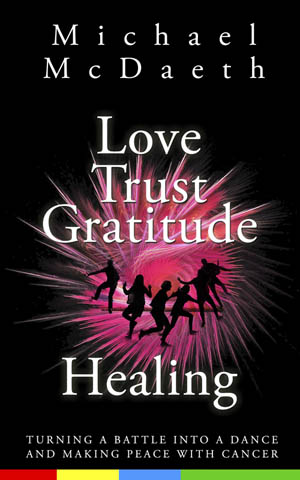 Love Trust Gratitude Healing
Turning a Battle into a Dance and making Peace with Cancer
Bedridden, unable to walk, riddled with cancer, it was a panic attack that gave Michael his most effective tool for dealing with radiation and chemo treatments, a bone marrow transplant, and learning to walk again. Four words came to him in the aftermath of the panic attack: Love, Trust, Gratitude, Healing (LTGH), and he began repeating them like a mantra. McDaeth realized he was repeating a universally true statement: Love+Trust+Gratitude=Healing. 
Hoping to help others going through their own difficulties Michael shares his journey to recovery and how LTGH helped broaden his perspective, deepened his appreciation for life, and helped him heal emotionally and spiritually even when he was struggling to heal physically.
Odio adipiscing mattis in vel ut varius ut dignissim odio ut enim duis a justo rhoncus sed lectus etiam pellentesque nisl mollis pretium nunc.